Hello, my name is Rowley! I'm a semi-detached home located in the quiet, tree-line community of King Edward Park (KEP). I'm not like other homes in King Edward Park. In fact, I'm not like most homes in Edmonton. I'm built differently, because you deserve a more authentically built, thoughtfully designed home.
I can't wait to provide the perfect level of comfort, sustainability and relaxation for my future family. (You're going to make so many memories here, I can't wait!)
Before you move in, you probably want to know a little bit more about me. I'll be popping up a lot on Ocheller's Instagram and Facebook pages in the near future, but until then here's the rundown:
Rowley is a part of Ocheller's Signature Series
I'm a part of Ocheller's Signature Series. This means I was inspired by the beautiful grain elevators that are dotted across our prairies.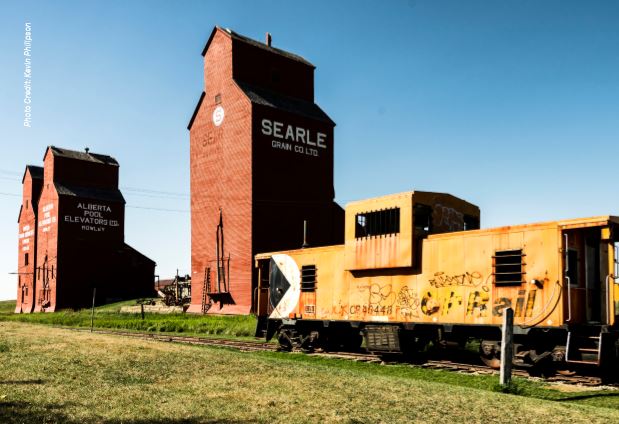 I'm told the inspiration behind my design is a historical piece of Alberta's past, and that I am the modern design of Canada's housing future.
Being a part of both Alberta's past and future is pretty neat. What exactly makes Ocheller the future of Canadian homes? In short, the way we think about and build your home is a completely new approach to housing. Here's just a few of the ways we make that happen:
Top-quality builds in every home (you don't need to add upgrades to live in a high-quality home)
ENERGY STAR certified appliances
Triple pane windows
Low-flow plumbing fixtures
Higher than average R-value for insulation
Adaptability to change and grow with your family over time (Set up an appointment to ask us how!)
Canadian materials, designs, builders, designers, and more (We really love our Canadian heritage)
Read more about Signature Series homes like me, and our Limited-Edition designs like Nest8 in Blatchford here.
Where did the name "Rowley" Come From?
Put your hand up if you were named after a special person or place!
I don't have hands, because, well, I'm a house, BUT if I did my hand would be standing up as straight and as tall as the elevator I was inspired by.
I was named after the grain elevators in the ghost town of Rowley. Since I am the first of Ocheller's Signature Series, our founder, Tegan, wanted to make sure that I was given an extra special name; a named that represented the resilience, persistence and dedication of the people of the prairies. Rowley was a perfect fit.
The town of Rowley has a current population of 10 people. (No, we aren't missing a 0. We really mean 10 people).
Once a "booming" town of 500, Rowley's population quickly diminished following the removal of the railway that connected the town to the rest of Alberta.
Lined with empty homes and building, the future of Rowley was looking grim. That is, until, a few party-happy locals decided to find a quick solution for their dwindling liquor supply – a "B & E Party" at the local, boarded up saloon.
The bar was then fixed up and renamed Sam's Saloon, after a respected member of the community.
That same team decided to spruce up the town and turn it into a heritage site for tourists, saving Rowley from extinction.
I am built with that same level of resilience and dedication as the people of Rowley, because being named after a town that strong is a big responsibility, and it's not one I take lightly.
Learn more about the unique town of Rowley here.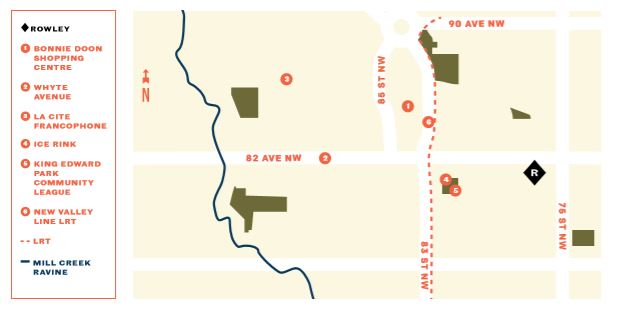 King Edward Park
Picture this: You're enjoying a quiet, peaceful cup of coffee in the morning with your loved ones. The birds are chirping, the sun is beaming through your large bay window, and the roar of city traffic is nothing but a distant memory. Welcome to King Edward Park.
King Edward Park is quiet neighborhood in Edmonton, located south of Bonnie Doon and Whyte Avenue. If you're looking for the perfect place to take long walks, watch your kids play in the front yard and still be within walking distance of local amenities, King Edward Park is the perfect location for you!
We've got a great community league in King Edward Park, which means plenty of fun, family-friendly activities and community involvement.
In fact, we have a lot of great community highlights! They include: New Valley Line LRT Station, Bonnie Doon Shopping Centre, Whyte Avenue, north campus of the University of Alberta and La Cite Francophone, local Community Ice Rink and Community Centre.
Now that you know a little bit more about me, I'd like to get to know a little bit more about you! Let's chat. Email us at info@ocheller.ca to set up an appointment.
See you soon!
-Rowley in KEP (AKA, the Ocheller Team)